Nothing draws me in more than a gallery wall, there's something beautiful about how the little pieces, when combined, are so much more when they are put together. I think my snarky teenaged side gets excited about gallery walls because my Mom never let me hang posters in my room because nail holes in the walls were her mortal enemy.
Since I'm waiting for the rest of my fabric to arrive, I'm starting on the artwork first, so I started digging through my style files and here are my absolute favorite gallery walls
I love the idea of saving shopping bags and beautiful packaging from your favorite gifts and trips and framing them as a reminder of all of those wonderful memories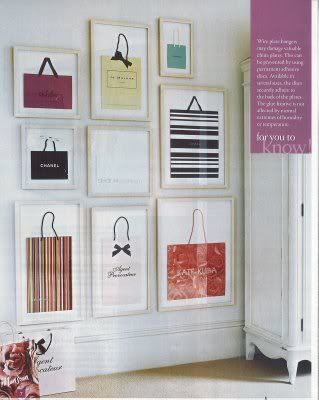 Image from Australian Better Homes & Gardens
I not only love the mixture of frames with the round mirror and silhouette, but placing it on the striped wall is just beautiful! 
Image from Domino Magazine
No other store does the gallery wall better than Kate Spade - the last Kate Spade store I was in had the cutest story up on the wall with the occasional prop glued where the words are (Why I didn't think of pulling out my camera and snapping a pic is beyond me - ARGHH) I am particularly drawn to the ampersand, I want to kick the mannequins out and make that store my house!
Image of Kate Spade Boutique from Lonny Magazine
I love this gallery wall - its a mix of typography and wonderful graphic elements and it is perfectly symmetrical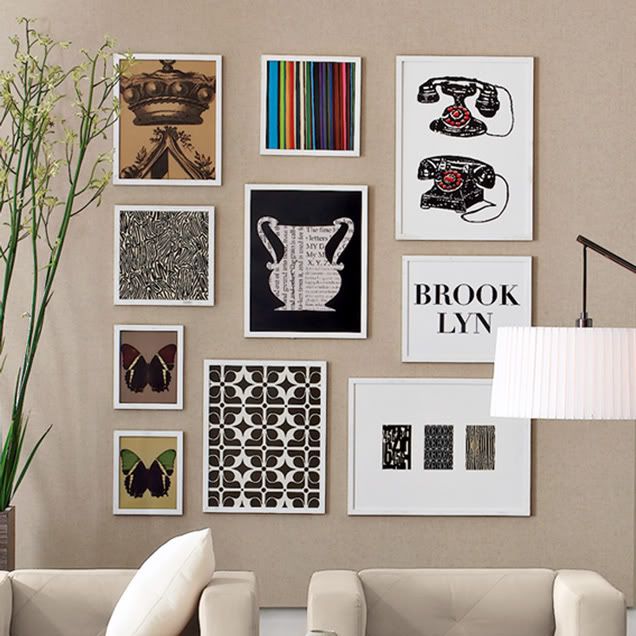 Image from West Elm
This gallery wall is from Anna Spiro who is an interior designer who authors the wonderfully inpiring blog,
Absolutely Beautiful Things
, if you haven't been to her blog, visit it now - you won't be disappointed
Image from Absolutely Beautiful Things
The image below isn't a "gallery wall" per se, but I love how Lilly Pulitzer groups multiple like items to make a gorgeous display, I am particularly fond of the paintbrushes - with the cheapies from Ikea, you could fill a wall with paintbrushes for less than $50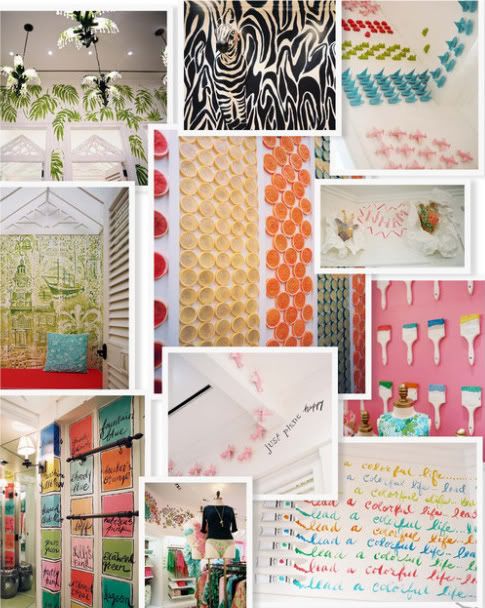 Image of Lilly Pulitzer Boutique from Lonny Magazine
hmmm...wonder what Mr Big Sunglasses would say if he came home to an entry hall with 100+ paintbrushes hanging on the wall?